View our Events Calendar here...
PSK Team Members Recognized
Four PSK team members were recently recognized in the CPA Centennial Service Section of the Fort Worth CPA Newsletter. Each member performed an hour of community service to commemorate the centennial.  Click the image below to see how each team member served their community. Congratulations Marie Bosillo, Susan Harris and Gracie Ward!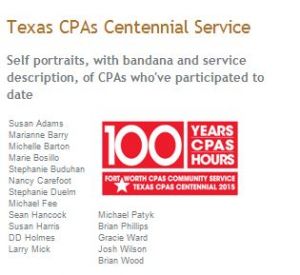 Spring Golf Tournament
For over 35 years, to commemorate the end of tax season and to thank loyal clients, great referral sources, and wonderful family and friends, PSK hosts an annual Spring Golf Tournament. Having nearly 120 participants each year, this tournament is an extremely successful event.
Squaw Valley Golf Course in Glen Rose, Texas, has been the site for this much anticipated tournament for many years. Free golf, lunch, and even an entertaining bus ride to Glen Rose with snacks galore—what more could you want?
Fall Golf Tournament
Fall brings the annual PSK Church and Ministry Golf Tournament. A crowd of approximately 100 usually attends. As PSK handles many church and ministry clients, this tournament is a great way to thank them for their loyalty and their business. This tournament has been a success for over 15 years and is held locally.
Day of Service
With a strong belief that we should give back to the community, PSK started an annual day of service in 2007. On this day, the office closes (though everyone is paid) and the team works together on a project. Spouses and family are encouraged to join in the fun.
The first project was Habitat for Humanity in which the team built a house in Fort Worth. Some helped with framing, while others were in charge of painting panels. Watch for the PSK crew every year—we mean business when it comes to helping others.
Community Involvement:
During the holidays, they buy turkeys and side items for Mission Arlington.
Mission Arlington has been close to the heart of PSK for over 25 years. There is not a holiday or event that PSK misses. Whether it's Thanksgiving, Christmas, Easter, or back to school time, PSK finds a way to give back to the community through Mission Arlington
At Thanksgiving, we deliver multiple turkeys with all the "fixings." It has been a long tradition for the managing partner to take all new team members shopping for gifts for the Christmas donation. It is quite a sight to see them fill 15 to 20 large shopping carts with everything from basketballs and video games to hair brushes and coats. It takes several vehicles to deliver all the gifts.
Christmas shopping trip for Mission Arlington
Several team members + managing partner
Spend about $5,000
Firm buys turkeys and side items on Thanksgiving for Mission Arlington
Our staff like to involve themselves individually as well. PSK's Casey Campbell dedicates his service by educating young students on the fundamentals of accounting, what professions accounting has to offer, and what types of classes to take to prepare for a future in accounting.